The Museum at Warm Springs will open its first exhibit of 2016 next week, with the Twenty-third Annual Warm Springs Tribal Youth Art Exhibit.
Young people can submit items for the exhibit until 5 p.m. this Friday, Jan. 22. The exhibit will have its grand opening on Thursday, Jan. 28.
The Youth Art Exhibit features original works by young people of the community from toddlers through high school. Talk to Natalie Kirk at the museum if you need more information, 541-553-3331.
In April the museum will feature, An Eye for the Rez: Edward Heath Photography.
"More than just snapshots, this exhibition showcases nature, scenery and cherished memories, and reveals the beauty of daily life on the rez."
Edward Heath works at Forestry. He started taking pictures just a couple years ago.
He focuses on daily life and scenery of the reservation—images that people might pass by without noticing.
He came to the attention of the museum curator Natalie Kirk, who heard great things from people about his photography. An Eye for the Rez opens in mid April.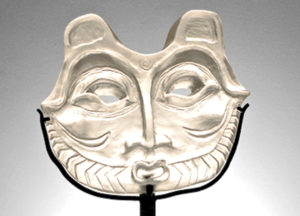 The main exhibit of 2016 will be Kindred Spirits: The Artistic Journey of Lillian Pitt. As the museum program reads:
Lillian creates contemporary works of fine art that delight today's art lovers, and at the same time honor the history and legends of her people. Primarily a sculptor and mixed media artist, Lillian's lifetime of works include artistic expressions in clay, bronze, wearable art, prints and glass.
Her works have been exhibited and reviewed throughout the Pacific Northwest, nationally and internationally. She is the recipient of numerous awards and distinctions. This visually stunning exhibition will display the creativity and spirit of Lillian Pitt.
This exhibit will open in June, followed by the Twenty-Third Annual Tribal Member Art Exhibit.  Some other items on the agenda this year are the Fourteenth Annual Honor Dinner, this year honoring Ted Kulongoski, Twanat Award recipient. The lifetime award recipient this year will be Dr. Creelman and the late Jeanie Thompson Smith.
The Youth Art Exhibit will open with a reception at 5:30 p.m. on Thursday, Jan. 28.