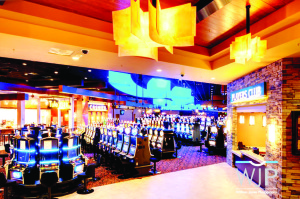 The tribal gaming board and staff gave Tribal Council a report on three proposed development and improvement projects.
One of the ideas is to expand Indian Head Casino with an entertainment and Bingo hall. The addition would be to the side of the building where the security desk is currently located.
The addition would be from 15,000 to 20,000 square feet. The addition would be fairly easy to accomplish, as the utility hook-ups are in place for expansion, said Harold Baugus, Indian Head general manager.
The addition would cost about $4.5 million, and would be a great improvement to the casino, Baugus said.
Bingo would be a popular added attraction, and the casino could host bigger name entertainers year-round, he said. The new room could be used for a variety other uses as well.
Gaming enterprises have to see improvements to continue attracting customers, Baugus said. "We've done well over the last year, but at some point we'll level out." The casino, he said, "has to be continuously enhanced."
The gaming board and staff have been studying this idea for several months, and recommended approval, said board chair Jason Smith.
The entertainment-Bingo hall expansion would give a good return on the investment, especially after year five, when the loan is paid off, according to the market research.
The gaming board also presented a proposal to develop a truck stop/convenience store at the tribal property located at the Madras industrial park. This 10-acre site is currently not being used for any productive purpose.
The proposed development would also include a restaurant. Other tribes operate these kinds of businesses, and have seen success.
The market research for a truck stop-convenience store shows great potential for a profitable enterprise, Baugus said. There would be revenue to the tribes, plus about 60 new jobs for tribal members.
There are about 1,000 people who travel through the Madras industrial park five days a week. This customer base would be in addition to the thousands of vehicles that pass by the site on Highway 26.
The idea is locate class II gaming machines from Kah-Nee-Ta at the truck stop.
The final proposal by the board is to invest in renovations at Kah-Nee-Ta, which has not seen upgrades in 12 years.
The improvements are needed to make the resort competitive with other resorts in Central Oregon.