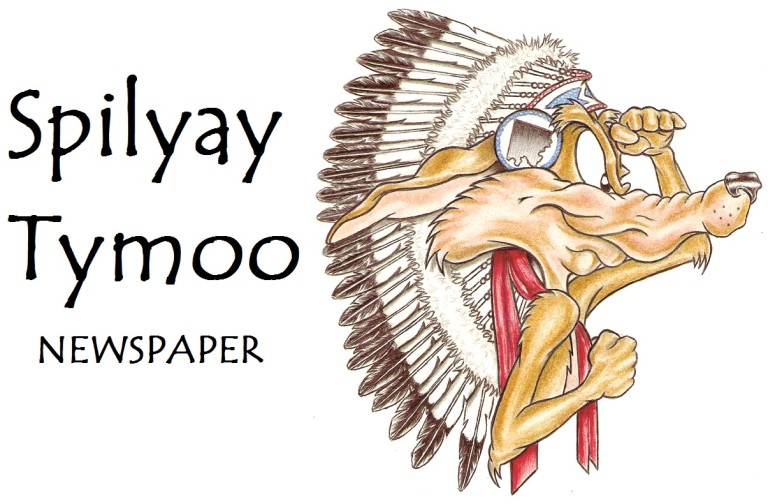 The SPILYAY TYMOO now has its own website at www.wsnews.org
General Information
The Spilyay Tymoo was first published 1976 by the Confederated Tribes of Warm Springs, Oregon. Since then, it has continuously published bi-weekly and focuses on local, regional and national Native American news.
Community members are encouraged to submit ideas for stories to run in the newspaper and online.
Contact us at 541-553-2307 or dave.mcmechan@wstribes.org.
Subscriptions
Living outside the community of Warm Springs? You can have the Spilyay Tymoo sent to your home bi-weekly by purchasing an annual subscription for $20.00. The general subscription rate is $20 per year. Due to the costs associated with mailing to local, state and federal institutions, subscription rates for these facilities is $52 per year. Send a check or money order to Spilyay Tymoo, PO Box 489, Warm Springs, OR 97761 and include your name and full address.
Advertising
Coming Soon!
Archive
Spilyay Tymoo issues from 1986-2005 are online and searchable. Visit the University of Oregon Libraries, Historic Oregon Newspapers website, click "search" on the navigation bar and enter search terms to look for articles and photos. The Spilyay Tymoo online project was made possible by a grant through the Digital Scholarship Center at the University of Oregon Libraries. The next step in the Spilyay Tymoo online project is to post the remaining editions, from the first one in 1976 through early 2014.
The current online version of the Spilyay Tymoo can be found at the newspaper's website wsnews.org at http://wsnews.org/2769-2/.
Spilyay Tymoo Archives