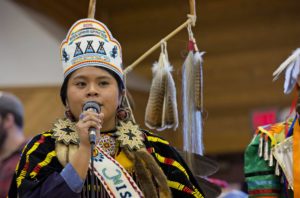 Miss Warm Springs 2015 Suzanne Slockish McConville is a contestant for the Miss Indian World title. The pageant will be held in Albuquerque, New Mexico, April 21-25, 2015 during the Gathering of Nations Pow-Wow. Suzanne is the daughter of Laura Slockish and Alfred McConville Jr. and is finishing up her first year at Eastern Washington University, studying criminal justice.
As Miss Warm Springs, she's attended numerous events in the community including local New Years Eve's festivities, Lincoln's Pow-Wow, the Museum at Warm Springs Honor Dinner and most recently the Celilo Wy-Am Salmon Feast & Pow-Wow. This will be the first national pageant that she has ever competed in.
"I've been getting my props ready, working on yarn baskets, practicing what I'm going to say during my talent presentation and looking into the mirror talking to myself to get rid of my nervousness so I'll be ready for the interview," shared Suzanne during a recent interview.
Established in 1984, the Miss Indian World program is the largest and most prestigious cultural pageants for Native American women. Contestants are judged in a number of categories including public speaking, a personal interview, traditional presentation, dancing and an essay. Suzanne's mother will be traveling with her as her chaperone to New Mexico.
"I've never been to Gathering of Nations so this will be a new experience for me."
As a contestant for Miss Indian World, Suzanne is selling raffle tickets for $2.50. They can be purchased through April 20th from Fay Anguiano at Natural Resources, Christina Culps at Indian Head Casino and Lawren Slockish at Tribal Court.
Connect with the Miss Warm Springs page on Facebook to keep up with Suzanne's trip to Gathering of Nations: bit.ly/MissCTWSO