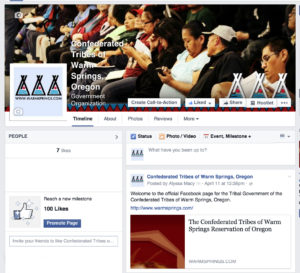 The Confederated Tribes of Warm Springs, Oregon has launched an official Facebook page at https://www.facebook.com/CTWSO.
Tribal members and the public are encouraged to "like" the page to receive updates from the tribal government. Postings will include official tribal office closures, election dates, other events that the tribal government is specifically involved in and updates from tribal enterprises.
"One of the priorities of the 26th Tribal Council is to improve communications to tribal membership. We felt that it was necessary to create an official presence on Facebook as so many tribal members utilize this social media site," stated Tribal Chairman Austin Greene, Jr.
As the tribe continues work to update the tribal website, the Facebook page provides a means of quickly communicating with tribal membership. Ultimately, social media sites will be used to drive traffic back to the tribal website.
"In addition to addressing the need for increased communication, we also hope it can be a tool to get feedback from tribal members as well," stated Evaline Patt, Vice Chairwoman.
The Nation has both a newspaper and a radio station which operate their own Facebook pages. The Spilyay Tymoo focuses on local news while KWSO 91.9FM focuses daily events, news, and programming.