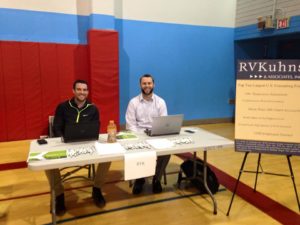 The Confederated Tribes of Warm Springs is among the biggest employers in the region.
About 800 to 900 people work directly for the tribes, and another 600 to 700 work at one of the tribal enterprises, depending upon the season.
"There are maybe 1,500 steady employees altogether," said Elizabeth Asahi Sato, director of tribal Human Resources. But there are over 5,000 tribal members, she added, so more employment opportunities is always the goal at Human Resources.
Human Resources—located in the administration building by the first entrance—features a new Employment Center, where the Human Resources staff will help customers with resumes, cover letters, and job applications. "We're all about customer services here," Elizabeth says.
Human Resources last week hosted its first Career Fair, with employers on hand from tribal entities such as Natural Resources, IHS, Indian Head Casino, Kah-Nee-Ta and the Telecom, as well as off reservation employers including Oregon Department of Transportation, the U.S. Forest Services, and RVK Investments among others.
Higher Education and workforce training representatives were also on hand to provide job seekers options.
WorkSource Oregon was a prominent participant, sharing resources available in Jefferson and Deschutes counties, assisting tribal members maneuver through barriers to employment. About 200 tribal member prospective employees showed up for the Career Fair.
The future plan is to expand the Career Fair to include large off-reservation employers from the around the region, Elizabeth said. The tribes have a significant positive economic impact from Madras to Bend, and the employment scenario in these communities should reflect that fact, she said.
She believes that all large employers in the region should have at least one tribal member employee, and she requests this of them whenever she meets with prospective employers.
Elizabeth has great advice for anyone looking for a job or career. She encourages young people to pursue their formal education as far as they wish. "Anything is possible when you understand the opportunities and your passion," she says.
But, Elizabeth adds, a person who has no higher education degree should not feel discouraged from seeking a good career.
When it comes to career readiness, work experience can be as important, or more important than a degree.
Elizabeth is collaborating with WorkSource to enable the Warm Springs community to be "Work Ready."
This initiative enables all prospective employees to participate in the national career readiness certification (NCRC) program.
For more on the career opportunities on and off the reservation, stop by Human Resources.