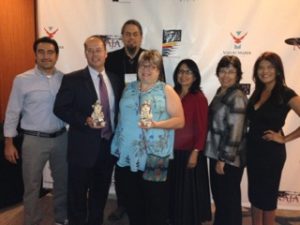 KWSO 91.9 FM Station Manger, Sue Matters, received the Media Excellence Award during the Native Public Media Conference, held July 10-13, 2014 in Santa Clara, California. Over 300 Native American journalists, media professionals and tribal representatives attended from across the country.
The Media Excellence Award celebrates special contributions that support Native Media Network including our responsibility to inform the public about important, local and challenging issues. Sue Matters has demonstrated the leadership, care and knowledge to help change the course for issues that face our Native Communities. Past honorees have been Koahnic Broadcasting Corporation CEO, Jaclyn Sallee in 2012 and KPYT Radio General Manager, Hector Youtsey in 2013.
When NPM was first starting out, Sue was there, serving as an advisor to NPM. Since NPM's inception, Sue has served in a leadership capacity for NPM, becoming one of NPM's first board members in 2010 and serving as its Chairwoman. Sue's contribution to the Native media network extends far beyond the interests of her station. Sue participated as one of two stations in NPM's New Horizons Study. A study that sought to ascertain the impact Native stations have on their audiences and community through daily on-air programming as well as in their off-air outreach.
Sue is NPM's go to person for production needs that serve the larger Native radio system. In recent times, she has assisted NPM in producing audio and video public service announcements for the National Native Media Conference. She is a mentor to her local community talent and a strong voice for community radio on a national scale. Sue is not only an asset to the Warm Springs Confederated Tribes, she is an asset to the public radio community and to NPM.