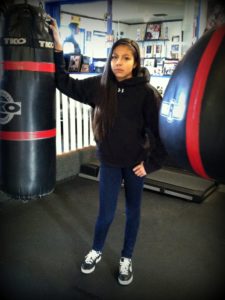 The Region 7 Silver Gloves Pacific Northwest Regional Championships was held January 16th and 17th in Nampa, Idaho. The Silver Gloves annual competition is open to amateur boxers from the United States ages 10 to 15 years old.
Warm Springs tribal member Kamelia Zacarias (112 pounds) daughter of Danielle Sahme and Joel Zacarias from Burns, participated in the Nampa event with the Deschutes County ROCKS Boxing Team. Younger sister, Marika Zacarias, also practices with the team but is not yet competing.
Several individuals from the ROCKS Boxing Team advanced to the nationals including Kamelia who will participate in the Women's National Silver Gloves Championships scheduled for July in Daytona Beach, Florida.
The Deschutes Country ROCKS Boxing Team won the team title for the third consecutive year and Zacarias was named the outstanding female boxer.
Coach Richard Miller stated, "At 13 years of age, she has set the pace for many female boxers in and around the northwest. Her long reach and strong jab makes it difficult for her opponents to get close enough to land anything."
In addition to winning the recent Silver Gloves bout, Kamelia has also won the Oregon State Silver Gloves and Regional Silver Gloves events two years in a row, the Fred Enslow Invitational and the Idaho Diamond Belt. Coach Miller sees big things for Kamelia in this sport.
For more information on the Deschutes County ROCKS Boxing Team, visit: http://deschutescountyrocks.com/