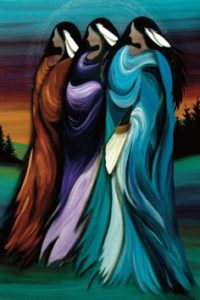 National Women's History Month kicks off with the theme Weaving the Stories of Women's Lives. This theme "presents the opportunity to integrate the diverse and compelling stories of women's lives into a colorful tapestry highlighting the intricacies and interconnections of these stories."
Now in its' 35th anniversary year, the National Women's History Project has become a national clearinghouse for information and training on multicultural women's history for all those who want to better understand the important contributions women have made to this country and beyond. While an important resource, the stories of Native American women are still scarce.
Native women have always had important roles in our societies – from builders, warriors, farmers, leaders, craftswomen, healers and mothers. Today women serve on our Tribal Councils, serve as cultural keepers and educators, and are a formidable force of influence and change at the local, national and international levels.
Yet, some would argue that the role of Native American women is not one that is respected, celebrated or recognized enough. Stories of Native American women continue to be notably absent in textbooks, media and classrooms discussions. Further, national statistics on violence, rape and health show that Native American women are often victimized and suffer from many health issues.
Native American women lives matter and so do our contributions and stories. It's important that we talk about and share the stories of our grandmothers, mothers, sisters and daughters so that our girls and young women know the important contributions and roles of Native women in our own community and beyond.
This storytelling is part of weaving our stories into the collective history of our Nation…and it provides a source of inspiration and encouragement for our young women and girls. Today is a good day to reflect on a women who has inspired you or served as a mentor and to share that story with a young woman in your life.
There are many, many stories of women right here in our own community. Who did you look up to as a child? Did you have a mentor? Is there a woman that serves in an important teaching role in your life?
We'd like to hear from you on Tuesday, March 7, on the 91.9FM CommUnity Talk Show which will focus on National Women's History Month and local women's contributions with our special guest Jeri Brunoe. You can also share thoughts by sending an email to alyssa.macy@wstribes.org.
Spilyay Speaks is a bi-weekly column written by Alyssa Macy, a Warm Springs tribal member and communications strategist. She can be reached at alyssa.macy@wstribes.org or on Facebook, Instagram and Twitter.