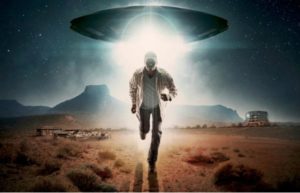 A Native American independent film—a science fiction thriller Legends from the Sky—will open at Madras Cinema 5 later this month.
This is a new film by Holt Hamilton Productions, featuring a Native American cast.
Legends from the Sky is the first sci-fi thriller from Holt Hamilton Productions. The production company is based in Flagstaff, and specializes in contemporary Native American films.
Legends from the Sky is the company's fifth film.
The story: A Native American veteran is burdened by survivor's guilt after a disastrous military tour. He is forced to search for his missing grandfather, who disappears when an unknown federal organization takes over his ancestral homeland.
The film was shot at Dine College in Tsaile, Ariz., on the Navajo Nation, with additional filming on the Maka Reservation in Neah Bay, Wash.
The film features several Native American actors, including Los Angeles-based actress/singer Mia Sable (Choctaw), Ernest Tsosie III (Navajo), James Bilgaody (Navajo), Wayne Charles Baker (Suquamish), and others.
Writer and director Travis Holt Hamilton hopes Legends from the Sky will open the door to future science fiction films with Native themes.
"I've had the idea to make a science fiction Native thriller for quite some time," Hamilton said.
Legends from the Sky will open at Madras Cinema 5 on Friday, April 10.