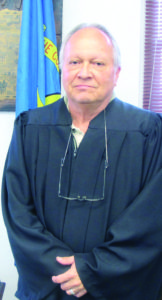 Walter 'Spud' Langnese has retired from the Tribal Court, after 18 years on the bench. For the past two years he has been the Chief Judge. His final day at court was last Friday.
During retirement, one of his hobbies will be training his papillon dogs, and bringing them competitions. The competitions involve the dogs running through an obstacle course. Langnese will be pursuing this hobby with his wife Elina.
And he'll be doing some travelling. Coming up is a trip to the Cayman Islands, where he'll meet up with friends he met while in the Marine Corps.
Walter served in the Marines in the early 1970s, including time in Vietnam.
He lost contact with his Marine Corps friends until a few years ago, when they got together for a reunion. Now they plan trips and have regular reunions.
The best part of his job as Tribal Court Judge was seeing some people make a successful change in their lives.
"So much of what the court deals with is negative," he says. "But occasionally you see a success story, when someone does what they're supposed to do, and it works for them."
The problem that generates most of the crime in the community is methamphetamine, Langnese says. "I would say 90 percent of our cases are meth related," he says.
Asked about his impression of the tribes' proposed cannabis project, he says, "From the business side, I think it's a good move, as long as it's followed through the way it's been presented—grown here and sold off the reservation." Personal possession of marijuana would remain illegal on the reservation, and it should stay that way, Langnese said.
Compared to state and federal court, Langnese says, the Tribal Court has the benefit of allowing some creativity in dealing with criminal cases.
State and federal judges are often required by law to impose a certain and specific sentence.
A tribal judge can take other factors into consideration, including tradition. Langnese remembers a case in which the whipman was used as part of the sentence. The youth involved responded as his parents hoped, and stayed out of trouble.
The Wellbriety Court is another example: A person can have criminal charges dismissed by completing the Wellbriety program, which began a year ago.
Tribal Council is now in the process of finding new judges for the court. Not only has Langnese left the bench, but former judge Glendon Smith also left this fall, taking on the secretary-treasurer job.