Andy Leonard and his Portland Red Sox baseball club this year won their second National Adult Baseball Association championship. They won their first title in 2012, after 16 seasons of getting close but just falling short.
Leonard, 52, played second base and outfield, and was named the series Most Valuable Player. His batting average was .645, having gone 20 for 31. He had no strike-outs or walks, putting the ball in play at each at-bat.
The performance should help him decide whether to play for Portland again next year spring—in what would be his twenty-second season in the adult league. "I've always said I'll play as long as I can," Andy was saying recently.
An MVP award and second championship would indicate he indeed still play the game.
Andy plays in about 50 adult baseball games a year. Most are with the Portland Red Sox, plus other games at Indian tournaments around the region. They play the Adult Baseball Association World Series in Phoenix, Ariz.
This year he played in two tournaments—the 50-and-over, and the 45-and-over divisions. It was with the 45-and-over team that he won the 2015 championship.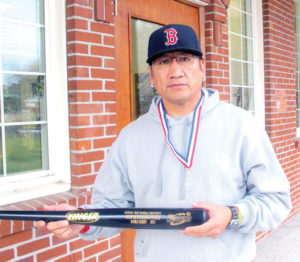 Andy started playing baseball at young age. At age 5 he moved up to the minor league division, when the usual minor league age was 8. He lettered all four years at Madras High School. His adult baseball career started at age 27.
These days Andy stays in shape in the off-season with regular exercise, helping him avoid injuries when the season starts.
During the World Series, he stays at a hotel away from most of the other team. "I like to be able to think about what I have to do, to get ready for the next game," he says. He was batting fourth or fifth during the most recent World Series tournament.
Andy is the adolescent after-care specialist and recovery mentor at Community Counseling. This is his sixth year in the job. Before that he worked at the Recreation Department for 24 years.
He has some time to think about making another run at the championship. The 2016 season starts in April.