The Dental Clinic at the Health and Wellness Center has a great prevention strategy. "I see prevention making a big difference in the community," said Farrell Lucei, dental assistant.
Young people today are seeing much less tooth decay, because of three main prevention programs, Farrell says. There is the fluoride treatment at the Early Childhood Education Center, the silver nitrate program, and the sealant clinic.
Farrell has been with the Warm Springs Dental Clinic for 13 years. She is an Expanded Function Dental Assistant. Her work, she says, "is my way of giving back to my people."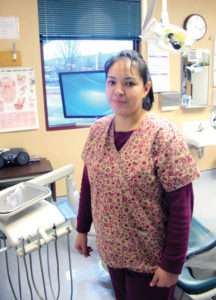 For her dedication, the IHS Employee Appreciation Committee chose Farrell as the Health and Wellness Center Employee of the Year.
Farrell grew up in Warm Springs. During her high school years, she lived in Bend. She first started thinking about becoming a dental assistant when she was 13 or 14.
"I would come to the clinic for cleanings, and every time I was here there was music playing," Farrell says. "I thought it would be nice to work where music is always playing." Her mentor was Juanita Simpson, hygienist at the clinic.
After high school Farrell moved to Los Angeles for a time, and went to Santa Clarita Career College. She became a dental assistant at 19.
She worked in the Salem area for a couple of years, and then came back to Warm Springs. "This is where I'm from. I know most of the families here," Farrell says.
The prevention programs at the clinic are a great service to the community. Another good development, Farrell says, is the oral surgeon who comes to Warm Springs once a month. Before, the patient had the choice of going off reservation for surgery and paying out-of-pocket, or having the tooth pulled at the clinic.
As an expanded function dental assistant, Farrell can place fillings and crowns, and do cleanings, among her other duties. She is one of four dental assistants at the clinic, where there used to be eight.
So the four who work there now are busy. Farrell was on duty in the clinic earlier this month when the Health and Wellness Center was holding its monthly employee meeting. She was told this was one meeting that she should attend.
And during the Appreciation Committee presentation, they announced Farrell as the Employee of the Year.