Confederated Tribes of Warm Springs managers, Public Safety officials and Bureau of Indian Affairs staff have been meeting this week to discuss potential flood threats and issues associated with recent extreme weather on the Warm Springs Reservation.  Today, (Thursday, January 19, 2017), Chief Operations Officer Alyssa Macy announced that the Tribes' Emergency Operation Plan was being activated to organize response to existing and potential impacts from recent below zero weather, several layers of snow, followed by warmer temperatures.
There have been: frozen and broken water pipes; multiple significant snowfalls that have challenged snow removal efforts; concerns about deep snow on rooftops; ice dams causing water leaks; and melting snow runoff.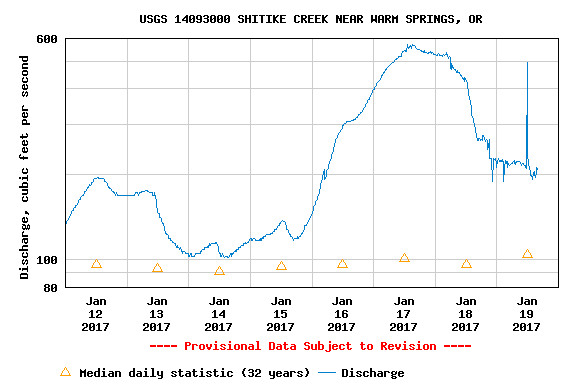 Water Levels are being monitored by the Warm Springs Natural Resources Department.  The U.S. Geological Survey has monitoring stations that collect data on water flow rates and levels.  Water flow is measured in cubic feet per second with specific allowable rates of flow for individual bridges.  At this time, there are no concerns on the Warm Springs reservation however data monitoring as well as physical inspections will continue.
Two historic floods in Warm Springs were in 1964 and 1996.  Impacts in 1964 included the washing out of bridges.  The engineering standards for bridges, at that time, could not withstand the volume of flood waters.   When those bridges were rebuilt they were designed more structurally robust.  The flood in 1996 was a 500 year event, with more flooding than in 1964 however most bridges stayed in place with the improved engineering.  The flood event in 1996 led to a breach in the Kah-Nee-Ta Village levy which was constructed following the 1964 flood.  The rebuilt levy that exists now was designed to a higher standard.
For residents in Warm Springs who are in need of sandbags to divert water from their home there is a sandbag filling station now set up in the Industrial Park in the "Restoration" fenced area near the Forestry Warehouse.  Individuals can bag sand between 8am and 5pm.  People need to bring their own shovel and  log in information about the number of bags taken.    Because the sandbag filling station is set up as a resource for the community to help deal with current conditions, taking empty sand bags or sand not in a bag is not allowed.
For questions about sandbags or other information related to the recent weather – you can call 541-615-0031 and leave a message or email publicrelations@wstribes.org