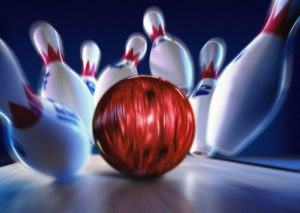 The Warm Springs Indian Holiday Bowling Tournament will celebrate its Thirty-Eighth Anniversary this Thursday through Saturday, November 27-29.
The Holiday Bowling Tournament Committee will host the event at Lava Lanes Bowling Center in Bend.
This year's tournament is in Memory of Jaclyn "Puff" Langley. The family requested the Women's C Division in the Masters event be dedicated to Jaclyn.
The committee appreciates very much the families' coming forth to recognize these individuals who added so much to the sport of bowling. The Committee will also have some unannounced specials as well for 2014.
The schedule of events will be as follows:
Mixed teams will roll at 3 p.m., and 8 p.m. on Thursday, Nov. 28. (Please note that the 9 a.m. squad on Friday has since been eliminated.)
Friday events will begin with doubles and singles events/squads for both women and men at 10 a.m. and 1 p.m.
Masters events will begin at 5 p.m., Saturday, beginning with the youth singles events at 10 a.m., followed by Mixed Doubles at 12 noon and 4 p.m.
The Holiday Roll Off Step ladder finals is scheduled at 2 p.m.
High qualifier in both men and women will receive beaded bowling pins in the Holiday Roll Off, with stepladder finals at this time (scratch team, doubles, and singles).
Master's events will be held Friday evening at 5 p.m. with qualifying (four games in regular, and three games for senior's events) with Step Ladder Finals at evening's end.
The Big Dog Challenge is sponsored by Jerry and Sandra Greene-Sampson. The challenge is open to any bowler wishing to enter at any average. $200 added, and a jacket for this special Master's Event.
Raffle Tickets to assist with this tournament are available by any committee member.
Great Prizes are on the list of raffle items. There will be special awards for 200-plus games offered throughout the tournament; side pots as well.
Youth will have items for a special raffle on Saturday morning. This tournament is USBC certified, and we anticipate bowlers from Montana, Nevada, Idaho, Washington, California.
For More Information contact Margie Tuckta at 541-553-9207 (h), Sandra Greene-Sampson at 541-553-6619 (h), or Austin Greene at 541-553-1953 (h). No collect calls please.