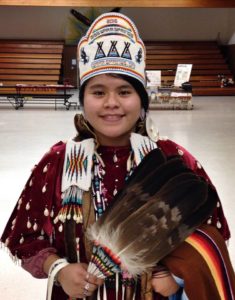 Suzanne McConville likes to find inspiring words. "If I'm feeling down, or happy, or just trying to get motivated," she was saying recently, "I'll look up quotes."
One of her favorites is: "If your dreams don't scare you, then they're not big enough."
A good example happened last week at the 2015 Miss Warm Springs Pageant. "I was nervous and scared—all emotions mixed in one," she was saying.
"But I went after it and chased it, and here I am. You really don't know what you can do until you try."
Suzanne won the 2015 Pageant following a close competition with Jazmine Ike Lopez.
"We had two wonderful girls who ran this year," said Miss Warm Springs 2014 Charmaine Billey. "I'm so proud of both of them for stepping up, and wanting to represent the tribes in a positive way."
"Both of the girls did great," said Emily Yazzie. "They both had really good answers to all the questions."
In the talent category Suzanne showed her basket-weaving technique, displaying a yarn basket. She learned the skill from her mom Laura Slockish.
Jazmine performed the Bunny Hop social song. She learned this last year, during the Journey to Bella Bella with the Warm Springs Canoe Family.
Suzanne, 18, is from Wishram. She is in her first year at Eastern Washington University, studying criminal justice. Her plan is for a career in law enforcement, either on the reservation or at the Columbia River.
Outside school her hobbies are basketball, basket weaving, and going to powwows. Her dad is Alfred McConville Jr.
As Miss Warm Springs, she said, "I would like to get very involved in the community, to help bring the community closer together."
Helping fight drug and alcohol abuse is one of her priorities. "I know when people feel alone in the world, they might turn to drugs and alcohol. I want to help change that," Suzanne said.
"I want to be a great role model for younger generations to come."
During 2015, Suzanne will represent the tribes at powwows, parades, rodeos, fairs, tribal government events, and other occasions.