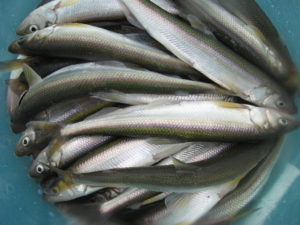 Tribal Council voted to open the smelt fishing season early this year, after consulting with the Branch of Natural Resources.
Council voted last week to open.
They are expected soon the Sandy River and tributaries as well. The initial plan was to open the season on March 1, but this was moved up, as the fish had already arrived in the Cowlitz.
Last year tribal members harvested about 2,000 pounds of the smelt.
The regulation this year call for a tribal allocation of 6,500 pounds, or about 93,820 fish. The tribal regulation calls for fishing between 6 a.m. and 6 p.m. Gear is limited to dipnets. Other regulations:
Members must carry enrollment cards on their person at all times fishing or transporting fish. Tribal members must report catch to BNR personnel on-site at fishery locations; or within 24 hours to the branch office in Warm Springs.