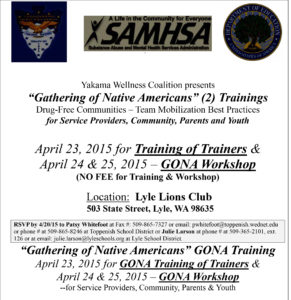 The Yakama Wellness Coalition will present the Gathering of Native Americans training this Thursday through Saturday, April 23-25.
The trainings will cover these topics: Drug-free communities; and team mobilization best practices. Click to download the full agenda.
This is for service providers, community members, parents and youth. The event is free to attend.
The location is at the Lyle Lions Club in Lyle, Wash. For information call Patsy at 509-865-8246. Or Julie Larson at 509-365-2101 ext. 126