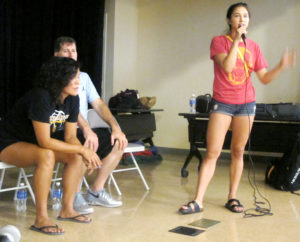 Jude Schimmel, with parents Rick and Ceci, visited Warm Springs on Tuesday.
They spoke with a large gathering of young people at the old elementary school gym.
The afternoon concluded with a Schimmel basketball clinic. Jude, 21, is a former Louisville Cardinals basketball guard, and Ceci is a coach. Jude is also the author of book, Dreamcatcher.
Jude earned the NCAA Elite 89 award for having the highest grade point average in the 2013 NCAA basketball championships. Her older sister is Shoni, who now plays for the WNBA team the Atlanta Dream.
The Schimmels' visit to Warm Springs started with the showing of the 2011 documentary about the family, Off the Rez, which won national acclaim.
Jude and her parents then answered questions from the audience, focusing on challenges of reservation life, meeting challenges and becoming successful.
The event was sponsored by Tribal Council and Community Counseling.