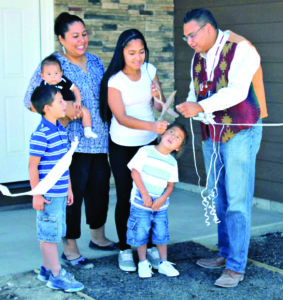 The first four families of the new Greeley Heights subdivision moved in to their homes last week.
The Warm Springs Housing Authority hosted a grand opening for the $9.7 million project.
On hand were the families that have qualified for the homes, community members, and many of the funding and planning parties that have been part of the unique project.
The Greeley Heights project involved a number private and public entities, federal and state:
Present at the opening ceremony were representatives from the state of Oregon, the HUD Northwest Office of the Native American Programs, the Bank of the West, and Prestige Affordable Housing Partners, among others.
They arrived for the occasion from their home offices at San Francisco, New Jersey and Ohio, for instance.
Warm Springs Housing director Scott Moses was the master of ceremonies. "This is big for us, providing 35 new homes for the families," Councilman Moses said.
"There were obstacles, but we were able to adapt and get it done." He thanked the development partners, the Warm Springs community and Tribal Council for the support over the past year.
Mike McHam from the state of Oregon said the Greeley Heights project is the first of its kind in the state.
The state worked on an project in Indian Country about 20 years ago, but the Greeley Heights project is the first such residential development on a reservation, he said.
The hope is that this can serve as a model for future projects needed to relieve the housing shortage on the reservation.
Fifteen of the Greeley Heights homes will be three-bedroom units, 15 are four-bedroom, and five will be five-bedroom units. The homes have new appliances, and water heaters in the homes that are energy efficient.
When finished, the subdivision will have sidewalks and street lights, and access to high-speed internet through the Warm Springs Telecom.
Advanced Native Construction, and Warm Springs Construction are the contractors for work.
The plan is for four new units to come online each month.
For more information on the application process for one of the units, call Housing at 541-553-3250. Or email Desirae Wallace at: desirae.wallace@wsha.us