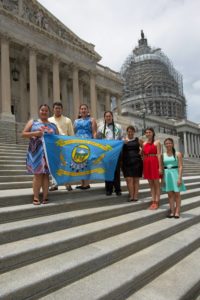 By Ashley Meanus, Keeyana Yellowman, Warm Springs Youth Council
On July 9th, 2015, members of the Warm Springs Youth Council was fortunate to attend the invitation only first ever White House Tribal Youth Gathering (WHTYG) held in Washington D.C. We also spent the following 5 days participating in the 2015 National United National Indian Tribal Youth (UNITY) Conference. This trip was a once in a lifetime experience and the Warm Springs Youth Council (WSYC) members who participated were very blessed to have been apart of it. As we left Warm Springs we had an open mind and heart, we were ready to learn and become better leaders for our community.
The day before the White House Tribal Youth Gathering we had the opportunity to tour the US Capitol as well as meet with Congressman Greg Walden and Senator Merkley of Oregon. Both Congressman Walden and Senator Merkley were very interested in our concerns and were very engaged in what we had to say. Warm Springs Youth Council member Keeyana Yellowman discussed our concern of the Schatz amendment that will help with preserving Native languages across the country and we requested that the Senator support Amendment 2240. Senator Merkley agreed to support our wishes and we are very thankful to have been able to meet with both representatives.
The morning of the White house Tribal Youth Gathering was very hectic. We all woke up at 4:00 AM to get ready for what was going to be an memorable and historic day. As we entered the Renaissance Hotel where the gathering was held there was an overwhelming amount of native youth from every part of the country. The excitement quickly started to build as we made our way to the Grand Ballroom. The day was here and we were all so honored to be apart of it.
Over 1,000 native youth stood in line for an hour to enter the ballroom where we would have the opportunity of a lifetime. One thing that we noticed was the fact that every single youth that was in attendance was there for one thing, to make a change. There were quite a few speakers that morning but they all agreed that we are the generation that is going to make that change and that we are apart of a movement to help better the lives and communities across Indian Country.
One of the many speakers who came to the White House Tribal youth Gathering was First Lady Michelle Obama. She had some very encouraging and powerful things to say in support of the native youth across this great nation. Her memorable speech was as motivating as it was emotional. She inspired a lot of us and made us feel prideful for being who we are; INDIGENOUS. We were thrilled to hear that our very own Feliciana Conner and Malia Collins got the opportunity to give the First Lady a hug, a moment forever cherished. You can view her speech online at: http://bit.ly/1CSzejv.
After listening to the many speakers, everyone was assigned a breakout session where we would meet with other youth and get to address our concerns to government officials. Some of the breakout sessions included topics such as education, culture, leadership, and natural resources. During this session we learned a lot about what other youth from different tribes experience as well compared our similarities. Attending the WHTYG was very eye opening and members of the WSYC are very grateful to have been apart of that day.
Following the WHTYG we got to attend the National UNITY Conference from July 10-14. There were about 1,800 youth that attended the conference this year which was more than ever before. All of the youth who attended the conference got to learn good leadership skills and had the opportunity to engage in conversations pertaining to self-identification and what it's like to be an indigenous person. Each day of the conference was different and everyday there was a topic that had to do with the theme "Defining the U in UNITY." Each day we developed new skills, made new friends and made endless memories.
The WSYC would like to say, if it weren't for all of the support that we got from our community, and family and friends, it would not have been possible for us to have the experience of a lifetime. We would like to thank each and everyone of you guys for believing in us and being by our side the whole way through! We will be hosting a community dinner and report back on Wednesday, August 5, at the Agency Longhouse where we will share further on this experience.
We also encourage Native youth living in Warm Springs, ages 14-24, to get involved with the WSYC. You can connect with us on Facebook: http://bit.ly/CTWSOYouthCouncil or on Twitter: https://twitter.com/ctwsyouth. We also maintain a e-distribution list and can sign you up! Send us an email on our FB page with your contact information and we can add you to the list.