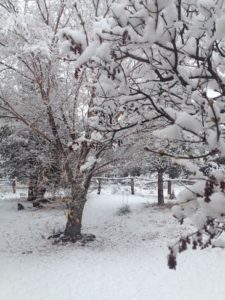 Tuesday afternoon, November 24, 2015, Confederated Tribes of Warm Springs Secretary Treasurer/CEO, Glendon Smith, released Tribal employees so they could travel home before snowy nroad conditions worsened.  Tribal Offices will remain closed tomorrow, Wednesday, November 25th.  The Tribe is closed for the Thanksgiving holiday on Thursday and Friday, November 26th & 27th.
Confederated Tribes of Warm Springs Offices will reopen on schedule on Monday, November 30, 2015.
Due to inclement weather and road conditions on Tuesday, November 24, 2015 Warm Springs Clinic closed at 5 pm on Tuesday, November 24, 2015.  On Wednesday November 25, 2015 the clinic will be open for patients from 10 am to 2 pm.    Please make arrangements to come in for your medications or urgent care needs between 10 am and 2 pm.
The Warm Springs Boys & Girls Club will be closed Wednesday.  Also Thursday and Friday for the Thanksgiving holiday and will re-open on Monday, November 30th.
All Central Oregon Community College campuses are closed Wednesday due to the inclement weather.
The 509-J school district is closed this week for the Thanksgiving Holiday.
There is a winter storm warning in effect until Wednesday morning.  Temperatures will be in the 30s daytime through Friday with lows in the teens overnight.