The Warm Springs community COVID-19 Update today reports 5 new cases of COVID-19 from 62 tests conducted on Wednesday (2/17/21).
There are currently 23 active cases of COVID-19 on the reservation with 35 close contacts receiving daily monitoring.
787 Total Positive Cases in Warm Springs Since the Pandemic Began
8519 tests have been conducted at the Health & Wellness Center
81 people have been hospitalized due to COVID-19
79 people have been discharged from the hospital
22 Warm Springs people have died from COVID-19
—
Vaccinations
1095 primary doses, of the Moderna COVID-19 vaccine, have been administered.
There are 510 doses available at tomorrow's Community COVID-19 Vaccination clinic that will be held at the Warm Springs Community Center.  This is for ages 18 and older.  You must be eligible for care at the Warm Springs Health & Wellness Center OR be an Essential Employee for the Tribes.  You must pre-schedule an appointment by calling 541-553-2131.   The appointment line is open 8am – 5pm today and tomorrow.
566 2nd (Booster) doses of the Moderna vaccine have been given. 30 additional second doses are scheduled for today.
—
By opening up the vaccine clinic tomorrow to individuals 18 and older it is hoped that our community will begin working toward herd immunity.  There are doses of vaccine available – so please encourage any eligible people 18 and older to call 541-553-2131 before 5pm today.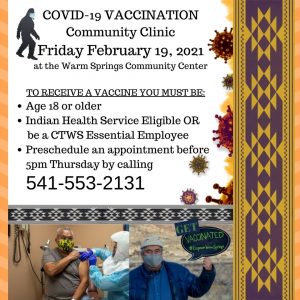 —
For up to date information about the Covid-19 Pandemic visit:
US CENTERS FOR DISEASE CONTROL